The employees of Codento have many things in common, such as a human approach to work and an interest in cloud technology. For each employee, however, Codento naturally means different things with slight nuances.
At Codento, three times a year, led by our HR, comprehensive discussions are held with each employee individually. The agenda in these meetings is to gather employee understanding and survey work well-being: How is the customer project going, how is Codento treating you, are you feeling heard in the work community and how are you able to recover after working days.
In this article, I bring up topics that have come up several times in these discussions, my aspiration is to form my own interpretation of Codento's day-to-day operations as realistically as possible, dealing with both sides of the coin. So, underneath you will see some topics accompanied by more or less organized thoughts.
Interest in Cloud Technology
The people of Codento see very meaningful e.g. that we can use our working time to study and that we can earn bonuses from Google Cloud certificates. Therefore, we naturally have a lot of expertise and interest in the area.
On the other hand, sometimes it also feels like urgency in customer cases doesn't leave you the time so you could study the shiny new things of cloud technology. Fortunately, we usually also find time to study in a suitable gap!
Caring about Employees
On several occasions, how Codento takes care of employees comes up in the HR discussions. Both HR, supervisors, and other Codentians are easily approachable and take your individual perspective into account.
On the other hand, sometimes supervisors also are a bit short on time, since customer work can take up time from the calendar. Of course, this is usually seen as understandable from the employee's point of view, but the 121 discussions have always been held with us every month. If one forgets these, my colleague Marika and I will let them know!
Development Path to Google's Cloud Technology
Development regarding cloud technology takes place in projects, studying for certificates, jointly organized workshops or bulletins, and informal sparring. Common enthusiasm for the matter is clearly visible.
On the other hand, it has also been seen as necessary to create clearer and more strictly limited development paths. This has been taken into account and e.g. through the new Agileday system, we can build a more personal plan for everyone and easier-to-follow steps in skill development.
Remote-focused hybrid work
At Codento, the employee is strongly trusted, as a result of which the time of work, way of working, and place of work can often be arranged by yourself. Of course, the requirements of client work set some boundaries here, but otherwise, we are open to all kinds of arrangements, as long as the work gets done. So there is a lot of flexibility for different situations and ways of working.
On the other hand, the people of Codento have also wished for more frequent visits to the office. In this way, getting to know both new and old colleagues goes more naturally and the group spirit is maintained a little better. Joint kick-offs and other larger gatherings have always left a really warm feeling.
Balance Between Work and Free Time
The people of Codento do not lose sleep at night because of work. The overall message in this area is clear when we ask our employees about recovery and workload. It is also very important for us to stick to this in the future.
Naturally, sometimes in a consultant's work, there are situations where you have to do many things at the same time and the stress levels are higher. It is our responsibility as company representatives to ensure that no one has a situation like this for a longer time.
Openness and Transparency
Every week we have two all-hands meetings for everyone (called worksite meetings), where we review the sales pipeline and current customers.
On Tuesdays, the sales team presents the latest opportunities about the possible assignments, goes through the offers sent to possible customers, and tells what cases have been won or lost. This way, everyone in Codento knows what to expect in the near future.
On Thursdays, we review all current customers and give the floor to the consultants. In these meetings, a list of clients is discussed and comments are asked about how things are going and whether there have been any difficulties. This way, everyone in Codento is better informed about the present.
Of course, we don't always have time or are able to share everything, but we try to give everyone as clear a picture as possible of the state of the company.
A Capable Team
Often in discussions, appreciation for the skills of colleagues comes up. The people of Codento appreciate each other's expertise and are happy to share theirs. Our advantage is also that there is expertise in so many areas.
On the other hand, sometimes looking for direction for learning can also be a little tricky with a technically diverse group, no matter how skilled you are. Fortunately, this is constantly on our minds and guidelines are starting to have a clear figure.
Good lessons and interesting discussions
Bulletins, workshops, and training held by Codento's own employees have often been praised. Who else would be better to guide you in a new and interesting topic or technology than an expert who is enthusiastic about the topic?
On the other hand, at every moment we don't have time to organize as many such joint learning gatherings as we would like. This is naturally recognized in everyday consulting work, but sometimes we miss common learning experiences alongside work. However, the matter is always in the back of our minds and these gatherings are arranged at suitable intervals whenever we can.
Ownership Opportunity
More than half of Codento's employees are also shareholders in the company. It naturally gives meaning to the days when work is done for the common good of us all. We also try to hold emissions of shares for as long as possible, so that everyone who wants can join the journey.
Of course, this is not endless, and not necessarily always predictable. Hopefully, we can take the people of Codento along on the growth journey for as long as possible!
Cooperation with Google Cloud – Cutting-Edge Technology
It's pretty cool from a developer's point of view to be able to do things in cooperation with such a giant of information technology. As a partner, we get access to the latest information and interesting technologies a bit faster.
Sometimes you have to wait a bit for them to be used in practice, even though your fingers are already itching to make customer solutions with the latest tools. But, they always come into use at some point and we're among the first!
Company Full of Great People
This is a very common comment in HR discussions. In general, the atmosphere and the people of Codento are pretty laid-back. However, we can all recognize that this does not mean that you cannot work seriously and fully. The work will certainly be done, as you can expect from a competent team.
Still, even though we have a wonderful group of people, we must strive to increase diversity more in the future. As you know, different backgrounds and perspectives affect the software or artificial intelligence models being built.
Here's my point of view on Codento's culture and Codentians. Someone else might describe us a bit differently but I'm sure there would be similar themes.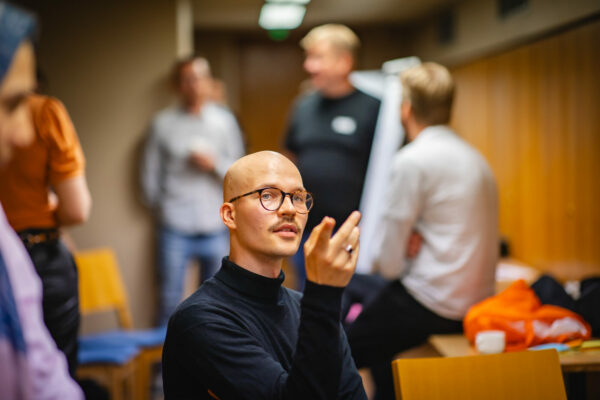 About the author :
Perttu Pakkanen is responsible for talent acquisition at Codento. Perttu wants to make sure that the employees enjoy themselves at Codento because it makes his job much easier.