#GOOGLECLOUDJOURNEY: Cloud Digital Leader Certification – Why's and How's?
Author: Anthony Gyursanszky, CEO, Codento
Foreword
As our technical consultants here at Codento have been busy in completing their professional Google certifications, me and my colleagues in business roles have tried to keep up with the pace by obtaining Google's sales credentials (which were required for company-level partner status) and studying the basics with Coursera's Google Cloud Fundamental Courses. While the technical labs in latter courses were interesting and concrete, they were not really needed in our roles, and a small source for frustration.
Then the question arose: what is the the proper way to obtain adequate knowledge of cloud technology and digital transformation from the business perspective as well as to learn latest with Google Cloud products and roadmap?
I have recently learned many of my  colleagues in other ecosystem companies have earned their Google's Cloud Digital Leader certifications. My curiosity arose: would this be one for me as well?
Why to bother in the first place?
In Google's words "a Cloud Digital Leader is an entry level certification exam and a certified leader can articulate the capabilities of Google Cloud core products and services and how they benefit organizations. The Cloud Digital Leader can also describe common business use cases and how cloud solutions support an enterprise."
I earlier assumed that this certification covers both Google Cloud and Google Workspace, and especially how the cultural transformation is lead in Workspace area, but this assumption turned out to be completely wrong. There is nothing at all covering Workspace here, it is all about Google Cloud.  This was good news to me as even though we are satisfied Workspace users internally our consultancy business is solely with Google Cloud.
So what does the certificate cover? I would describe the content as follows:
Fundamentals of cloud technology impact and opportunities for organizations

Different data challenges and opportunities and how cloud and Google Cloud could be of help including ML and AI

Various paths how organizations should move to the cloud and how Google Cloud can utilized in modernizing their applications

How to design, run and optimize cloud mainly from business and compliance perspective
If these topics are relevant to you and you want to take the certification challenge  Cloud Digital Leader is for you.
How to prepare for the exam?
As I moved on with my goal to obtain the actual certification I learned that Google offers free training modules for partners. The full partner technical training catalog is available for partners on Google Cloud Skills Boost for Partners. If you are not a Google Cloud partner the same training is also available free of charge here.
Training modules are of high quality, super clear and easy to follow. There is a student slide deck for each of the four modules with about 70 slides in each. The amount of text and information per slide is limited and it does not take many minutes to go them through.
The actual videos can be run through in a double-speed mode and one requires passing rate of 80% in quizes after each section. Contrary to the actual certification test the quizes turn out to be slightly more difficult as multi-choice answers were also presented.
In my experience, it will take about 4-6 hours to go through the training and to ensure good chances of obtaining the actual certification. So this is far from the extent required to passing  a professional technical certification where we are talking about weeks of effort and plenty of prerequisite knowledge.
How to register to a test?
The easiest way is to book online proctored test through Webasessor. The cost is 99 USD plus VAT which you need to pay in advance. There are plenty of  available time slots for remote tests with 15 min intervals basically any weekday. And yes, if you are wondering, the time slots are presented in your local time even though not mentioned anywhere.
How to complete the online test? There are few prerequisites before the test:
Room where you can work in privacy 

Your table needs to clean

IDs to be available

You need to install secure browser and upload your photo in advance (minimum 24h as I learned)

Other instructions as in registration process
The exam link will appear at Webassessor site few minutes before the scheduled slot. Then you will be first waiting 5-15 minutes in a lobby and then guided through few steps like showing your ID and showing your room and table with your web camera. This part will take some 5-10 minutes.
After you enroll the test, the timer will be shown throughout the exam. While the maximum time is 90 minutes it will likely take only some 30 minutes to answer all 50-60 questions. The questions are pretty short and simple. Four alternatives are proposed and only one is correct. If you hesitate between two possible correct answers (as it happened to me few times) you can come back to them in the end. Some sources on web indicate that 70% of questions need to be answered correctly.
Once you submit your answers you will be immediately notified whether you pass or not. No information of grades or right/wrong answers will be provided though. Google will come back to you with an actual certification letter in a few business days. A possible new test  can be scheduled earliest in 14 days.
Was it worthwhile – my few cents
A Cloud Digital Leader certification is not counted as a professional certification and included to any of the company level partner statuses or specializations. This  might, however,  change in the future.
I would assume that Google has the following objectives for this certification:
To provide role-independant enrty certifications, also for general management,  as in other ecoystems (Azure / AWS Fundamentals) 

To bring Google Cloud ecosystem better together with proper common language and vision including partners, developers, Google employees and customer decision makers

To align business and technical people to work better together to speak the same language and understand high level concepts in the same way

To provide basic sales training to wider audience so that sales people can feel "certified" like technical people
The certification is valid for thee years, but while the basic principle will apply in the future, the Google Cloud product knowledge will become obsolete pretty quickly. 
Was it worth it? For me definitely yes. I practiclally went through the material in one afternoon and booked a cert test for the next morning so not too much time spent in vain. But as I am already sort-of a cloud veteran and Google Cloud advocate I would assume that this would be more a valuable eye-opener for AWS/Azure lovers who have not yet understood the broad potential of Google Cloud. Thumbs up also for all of us business people in Google ecosystem – this is a must entry point to work in our ecosystem.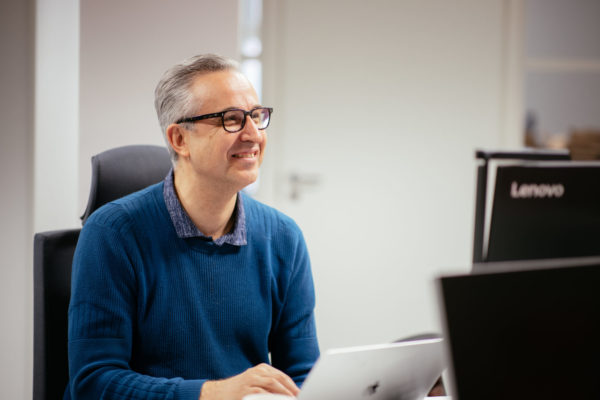 About the author:
Anthony Gyursanszky, CEO, joined Codento in late 2019 with more than 30 years of experience in the IT and software industry. Anthony has previously held management positions at F-Secure, SSH, Knowit / Endero, Microsoft Finland, Tellabs, Innofactor and Elisa. Gyursanszky has also served on the boards of software companies, including Arc Technology and Creanord. Anthony also works as a senior consultant for Value Mapping Services. Anthony's experience covers business management, product management, product development, software business, SaaS business, process management and software development outsourcing. And now Anthony is also a certified Cloud Digital Leader.
Contact us for more information about Codento services: