Leading through Digital Turmoil
Author: Anthony Gyursanszky, CEO, Codento
Foreword
Few decades back during my early university years I bacame familiar with Pascal coding and Michael Porter's competitive strategy. "Select telecommunication courses next – it is the future",  I was told. So I did, and the telecommunications disruption indeed accelerated my first career years.
The telecom disruption layed up the foundation for an even greater change we are now facing enabled by cloud capabilities, data technologoes, artificial intelligence and modern software. We see companies not only selecting between Porter's lowest cost, differentation, or focus strategies, but with the help of digital disruption, the leaders utilize them all simultaneously.
Here at Codento we are in a mission to help various organization to succeed through digital turmoil, understand their current capabilities, envision their future business and technical environment, craft the most rational steps of transformation towards digital leadership, and support them throughout this process with advise and capability acceleration. In this process, we work closely with leading cloud technology enablers, like Google Cloud.
In this article, I will open up the journey towards digital leadership based on our experiences and available global studies.
What we mean by digital transformation now?
Blair Franklin, Contributing Writer, Google Cloud recently published a blogpost
Why the meaning of "digital transformation" is evolving. Google interviewed more than 2,100 global tech and business leaders around the question: "What does digital transformation mean to you?"
Five years ago the dominant view was "lift-and-shift" your IT infrastructure to the public cloud. Most organizations have now proceedded with this, mostly to seek for cost saving, but very little transformative business value has been visible to their own customers.
Today, the meaning of "digital transformation "has expanded according to Google Cloud survey. 72% consider it as much more than "lift-and-shift". The survey claims that there are now two new attributes:
Optimizing processes and becoming more operationally agile (47%). This in my opinion,  provides a foundation for both cost and differentiation strategy.

Improving customer experience through technology (40%). This, in my opinion, boosts both focus and differentiation strategy.
In conclusion, we have now moved from "lift-and-shift" era to a "digital leader" era.
Why would one consider becoming a digital leader?
Boston Consulting Group and Google Cloud explored the benefits of putting effort on becoming "a digital leader" in Keys of Scaling Digital Value 2022 study. According to the study, about 30% of organizations were categorized as digital leaders. 
And what is truly interesting, digital leaders tend to outperform their peers: They bring 2x more solutions to scale and with scaling they deliver significantly better financial results (3x higher returns on investments, 15-20% faster revenue growth and simlar size of cost savings)
The study points out several characteristics of a digital leader, but one with the highest correlation is related how they utilize software in the cloud:  digital leaders deploy cloud-native solutions (64% vs. 3% of laggers) with modern modular architecture (94% vs. 21% laggers).
Cloud native means a concept of building and running applications to take advantage of the distributed computing offered by the cloud. Cloud native applications, on the other hand, are designed to utilize the scale, elasticity, resiliency, and flexibility of the cloud.
The opposite to this are legacy applications which have been designed to on-premises environments, bound to certain technologies, integrations, and even specific operating system and database versions.
How to to become a digital leader?
First, It is obvious that the journey towards digital leadership requires strong vision, determination, and investments as there are two essential reasons why the progress might be stalled:
According to a

Mckinsey survey

a lack of

strategic clarity

cause transformations to lose momentum or stall at the pilot stage.

Boston Consulting Group research

found that only 40% of all companies manage to create

an integrated transformation strategy. 
Second, Boston Consulting Group and Google Cloud "Keys of Scaling Digital Value 2022" study further pinpoints a more novel approach for digital leadership as a prerequisite for success. The study shows that the digital leaders:
Are organized around

product-led platform teams

(83% leaders vs. 25% laggers)

Staff

cross-functional lighthouse teams

(88% leaders vs. 23% laggers)

Establish

a digital "control tower"

(59% leaders vs. 4% laggers)
Third, as observed by us also here at Codento, most companies have structured their organizations and defined roles and process during the initial IT era into silos as they initially started to automate their manual processes with IT technologies  and applications. They added IT organizations next to their existing functions while keeping business and R&D functions separate.
All these three key functions have had their own mostly independent views of data, applications and cloud adoption, but while cloud enables and also requires seemless utilization of these capabilities "as one", companies need to rethink the way they organize themselves in a cloud-native way.
Without legacy investments this would obviously be a much easier process as "digital native" organizations, like Spotify, have showcased. Digital natives tend to design their operations "free of silos" around cloud native application development and utilizing advanced cloud capabilities like unified data storage, processing and artificial intelligence.
Digital native organizations are flatter, nimbler, and roles are more flexible with broader accountability ss suggested by DevOps and Site Reliability Engineering models. Quite remarkable results follow successful adoption. DORA's, 2021 Accelerate: State of DevOps Report reveals that peak performers in this area are 1.8 times more likely to report better business outcomes.
Yes, I want to jump to a digital leadr train. How to get started?
In summary, digital leaders are more successful than their peers and it is difficult to argument not to join that movement.
Digital leaders do not only consider digital transformation as an infrastructure cloudification initiative, but seek competitive egde by optimizing processes and improving customer experience. To become a digital leader requires a clear vision, support by top management and new structures enabled by cloud native applications accelerated by integrated data and artificial intelligence. 
We here at Codento are specialized in enabling our customers to become digital leaders with a three-phase-value discovery approach to crystallize your:
Why?

Assess where you are ar the moment and what is needed to flourish in the future business environment.

What?

Choose your strategic elements and target capabilities in order to succeed.

How?

Build and implement your transformation and execution journeys based on previous phases.
We help our clients not only throughout the entire thinking and implementation process, but also with specific improvement initiatives as needed.
To get more practical perspective on this you may want to visit our live digital leader showcase library:
You can also subscribe to our newsletters, join upcoming online-events and watch our event recordings.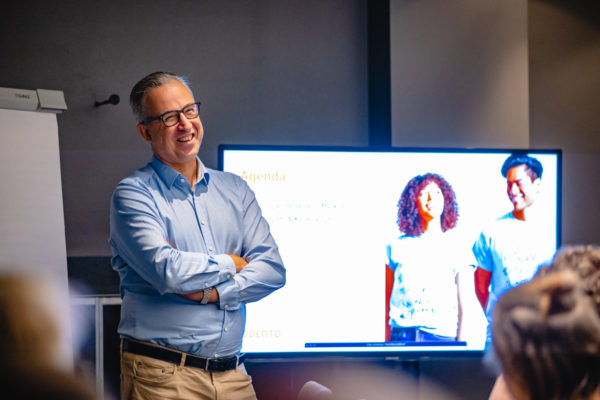 About the author: Anthony Gyursanszky, CEO, joined Codento in late 2019 with more than 30 years of experience in the IT and software industry. Anthony has previously held management positions at F-Secure, SSH, Knowit / Endero, Microsoft Finland, Tellabs, Innofactor and Elisa. Gyursanszky has also served on the boards of software companies, including Arc Technology and Creanord. Anthony also works as a senior consultant for Value Mapping Services. Anthony's experience covers business management, product management, product development, software business, SaaS business, process management and software development outsourcing. Anthony is also a certified Cloud Digital Leader.
Contact us for more information on our  Value Discovery services.