Smart Industry 5.0 with Codento and Google Cloud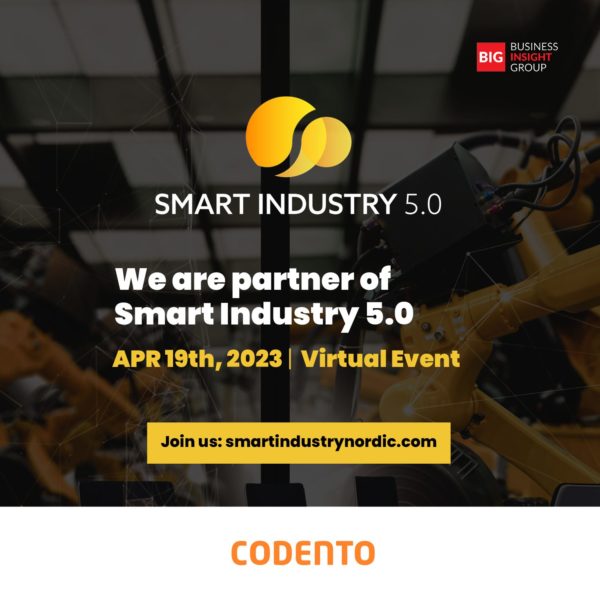 EMPOWERING THE NEXT GENERATON OF MANUFACTURING
The landscape of technology and manufacturing is constantly evolving.
Industry 5.0 represents a significant shift in the way manufacturing and industrial processes are carried out, with the integration of advanced technologies leading to increased efficiency and competitivness in the industry. It is characterizied by the integration of emerging technologies such as quantum computing, biotechnology and nanotechnology, which have the potential to significantly enhance the capabilities of Industry 4.0 technologies and bring about even greater level of automation and efficiency in manufacturing.
The Fifth Industrial Revolution, has also added human-centric, sustainable, and resilient concepts to the industrial revolution and it will revolutionize the manufacturing systems worldwide by preventing repetitive tasks from human workers.
In order to remain the engine of prosperity, industry must lead the digital, but also the green, transitions. This approach provides a vison of industry that aims beyond efficiency and productivity as the sole goals, and reinforces the role and the contribution of industry to society.
Join us to discuss a future in which even more advanced technologies are integrated into the manufacturing process, how the next revolution will involve a more profound human and robot collaboration that enables the increased efficiency, productivity, sustainable and competitivness that Industry 5.0 aims to achieve.
Welcome to Smart Industry 5.0!
—
CODENTO'S AND GOOGLE'S JOINT FIRESIDE CHAT TOGETHER WITH PETER NYMAN:
SCALING AI IN SMART MANUFACTURING AND SUPPLY CHAIN MANAGEMENT
Janne Flinck, AI and data lead, Codento & Sumanta Saha, Cloud Architect, Google 
Sumantha and Janne will present concrete insight on how to successfully scale AI operations in smart manufacturing and SCM. The following topics will be covered: 

Typical early challenges faced in adopting AI, and steps towards overcoming them by MLOps best practices

Simplified model and data management, and continuous operations

Global insight from Google's smart manufacturing and SCM cases