The #NEXTGENCLOUD online event series, which has gained great popularity, will now continue with new perspectives on scaling digital native business with the help of technology and cloud.
Please join our panel with Google, Codento, Vendep Capital and Agileday.
At the #NEXTGENCLOUD online event, you will hear:
What do a fundraisers pay attention to when deciding on investing to a digital native?
How to navigate through turbulence?
What do the successful digital natives do extremely well?
What is the role of technology selection and cloud platform in innovation and scaling the digital native operations?
How can Google and the ecosystem support digital natives in their scaling journey?
The event is intended to business and technology leaders and experts both in digital natives, like startups and scale-ups, and enterprises with corporate venturing initiatives.
Keynotes and panelists: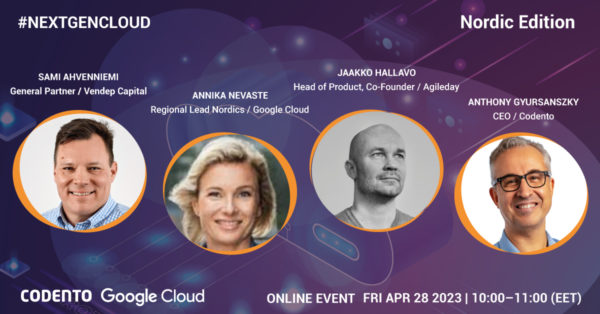 Sami Ahvenniemi, General Partner at Vendep Capital
Sami has seen it all, from Co-Founder and product sales to Chairman roles and scaling from 15 people to IPO and launching US offices in Silicon Valley. A strategic thinker and super networker, Sami can call on more than two decades of experience of entrepreneurship, startups and VC and angel investing. When not polishing his classic US motors, you'll find him either hunting down his second hole in one or swearing at iron at Crossfit Kirkkonummi. We invests in early-stage SaaS and cloud companies in the Nordics and Baltics. Vendep Capital has led investments in more than 20 companies including AlphaSense, AppFollow, Happeo, HappySignals, Leadfeeder and Xolo.
Annika Nevaste, Regional Lead Nordics, Digital Natives, Google Cloud
Annika is an experienced leader with 20 years in IT, working with clients across industries and continents. At Google she leads Digital Native business supporting the startups, scaleups, today's and tomorrow's unicorns to best leverage the future proof tech, disrupt the market and succeed. She is experienced in driving hyper growth, large scale change management programs, building healthy ecosystems and unlocking value for clients & boards. As a leader she is passionate about building highly engaged teams where everyone plays at their best. She is driven by bold bets, 10x thinking and continuously seeks new ways to keep developing herself, currently with Stanford and at tennis courts.
Jaakko Hallavo, Head of Product and Co-Founder, Agileday
Seasoned professional with a long history as a trusted advisor and consultant for digital, e-commerce, and business agility. Proven track record in driving change and helping companies benefit from digital disruptions. After spending a few years as an employee, I am now back in the startup world as Head of Product for Agileday, the world's first human-fit operating platform for knowledge work at scale.
Anthony Gyursanszky, CEO, Codento
Anthony joined Codento in late 2019 with more than 30 years of IT and software industry experience.. Previously Anthony has held leadership positions in F-Secure, SSH, Knowit/Endero, Microsoft Finland, Tellabs, Innofactor and Elisa. Mr. Gyursanszky has also been in software company board positions, including Arc Technology and Creanord. Anthony works also as senior consultant for Value Discovery services. Anthony's experience covers general management, product management, R&D management, software business management, SaaS business, process management, and software development outsourcing.
Request access to the video recording: