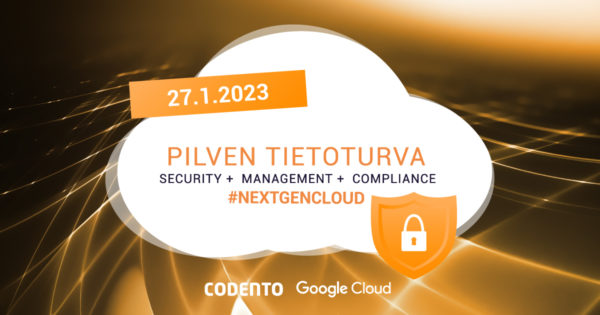 Join top experts to hear how you can ensure current or future data security and manageability in a cloud environment.
Our highly popular #NEXTGENCLOUD online event series will now continue with new perspectives.
This time we are dealing with a tough category with a panel of experts:
What are the most typical risks and threats in cloud environments?
The approach of different cloud providers to information security
Multicloud's requirements for information security
Requirements and recommendations related to data location
How to act in the event of a crisis?
How to manage and ensure the information security of the current or future cloud environment?
An intense, energetic, insightful and thought-provoking lesson is planned. This is not to be missed!
The panelists are: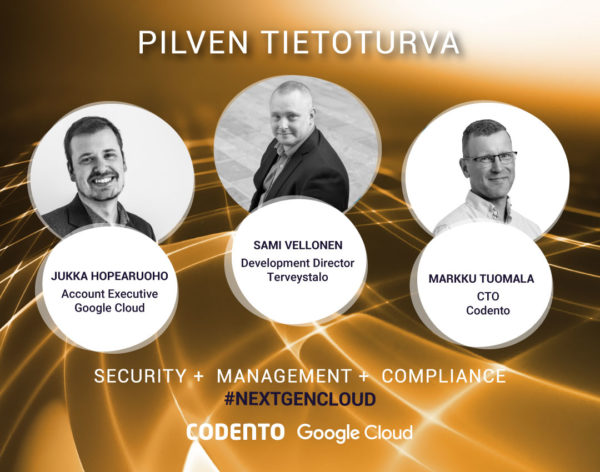 Sami Vellonen, Development Director, Terveystalo
Sami is a passionate people, technology and cybersec leader, enabler, and doer. Seasoned professional with +20 years of experience in digitalizing various industries from startups to international giants.
Jukka Hoperauoho, Account Executive, Google Cloud
Jukka works at Google Cloud as a customer executive with clients in the healthcare, financial and insurance industries. In both industries, data protection and information security play key roles in information system and infrastructure projects, and Jukka's extensive experience in combining these perspectives helps in understanding and prioritizing essential directions.
Markku Tuomala, CTO, Codento
Markku joined Codento in 2021. Markku has 25 years of experience in software development and cloud from Elisa, the leading telecom operator in Finland. Markku was responsible for Telco and IT services cloudification strategy and was a member of Elisa's production management team. Key tasks included Elisa software strategy and operational services setup for business critical IT outsourcing. Markku drove customer oriented development and was instrumental in business growth to Elisa Viihde, Kirja, Lompakko, Self Services and Network automation. Markku also led Elisa data center operations transformation to DevOps. Markku also works as senior consultant for Value Discovery services.
Request access to the video recording: