Please fill in the form below to obtain video recording
Did you know that you can use quantum computers in the Google Cloud? Google's global innovations are now available to anyone who wants to be a cloud professional. Join us to hear what options are available to develop your skills and career as a Google Cloud.
At the # GOOGLECLOUDJOURNEY online event, you'll hear:
What is quantum computing?
What can it be used for?
How to program quantum cloud?
Google's quantum computing capabilities and roadmap
Google's Dr. Alexander Del Toro Barba, will go through the following topics:
Quantum Computing is becoming an increasingly interesting new technology on the market. Business and technology leaders are now wondering what it can deliver today and if they should invest in order not to miss out? Alexander will show the current state of Quantum Computing, explain the challenges & misconceptions, show Google's offerings, milestones & roadmap, and will provide some tips on how to prepare for Quantum Computing in large organizations.
The event is intended for cloud professionals or those who want to develop skills and capabilities as a cloud professional.
Registration information or your own name will not be visible to other participants during the event.
Presentors and panel: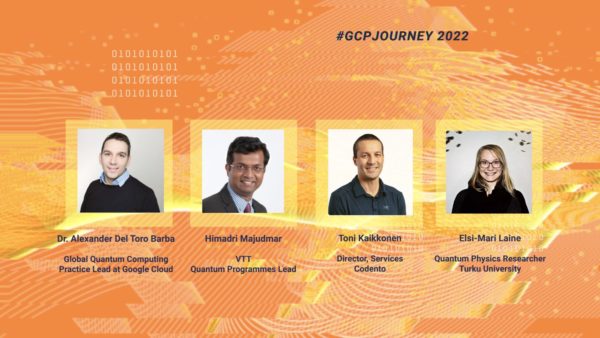 Dr. Alexander Del Toro Barba, Global Quantum Computing Practice Lead at Google Cloud
Dr. Alexander Del Toro Barba is Global Quantum Computing Practice Lead at Google Cloud, where he supports customers' understanding of the current state technology in Quantum Computing, Google's offering and challenges when it comes to applications. Alexander joined Google in 2018 as a Machine Learning Specialist, where he supported business & industry solving their most difficult problems with machine learning. Besides, he contributed to DeepMind on a renewable energy project for wind power forecast optimization to fight climate change, and to Google Research on machine learning for improved weather forecasting. Since 2020 Alexander has been Practice Lead of the machine learning specialists in Google Cloud EMEA-North. Starting with a 20% role at Google Quantum AI research, Alexander became the Global Quantum Computing Practice Lead for Google Cloud in 2022.
Dr. Himadri Majumdar, VTT, Quantum Programmes Lead
Himadri's role as Quantum Programmes Lead is to manage the Quantum initiative at VTT, including the first Quantum Computer acquisition project of VTT and Finland. He strongly focuses on building networks and partnerships both in Finland and internationally and drives an ambitious quantum innovation ecosystem with partners from both business and academia.
Dr. Elsi-Mari Borrelli, Lead Quantum Biology Researcher at Algorithmiq
A company developing algorithms that push the limits of existing quantum hardware to solve important problems in molecular structure prediction, drug development and materials design. Elsi has experience both in fundamental research in quantum physics and industrial research in topics ranging from advanced analytics and prognostics for electrical devices to human-robot interfaces. Before joining Algorithmiq she worked as a Researcher in University of Turku and Aalto University and as a Senior Scientist at ABB.
Toni Kaikkonen, Director Services – Codento
Toni is an experienced software business professional and one of the pioneers of agile methods in Finland. He began his career at QPR Software in 1997 as a programmer and later worked as a project manager, product manager and product development director. In 2008, he started with Endero (Knowit) in software services and has since worked e.g. in the startup world and as an independent consultant through his own company before starting at Codento.
Please fill in the form to obtain video recording