#GOOGLECLOUDJOURNEY – The Secrets of a Hidden Cloud Treasure – Video Recordin
Join Google and Codento experts to see what hidden cloud secrets can be found with the #GOOGLECLOUDJOURNEY Treasure Map?
Come and hear what options are available to develop your own cloud professional skills and expertise in the direction of Google Cloud, as well as gain new perspectives on choosing the most suitable cloud platform.
At the # GOOGLECLOUDJOURNEY online event, you'll hear:
Why Google is a clear pioneer in cloud technologies in so many areas?
Why is Google Cloud becoming more popular with technical experts like software developers?
Why is Google also the most sought after job among students?
What career opportunities and competencies do the Google Expert Ecosystem offer?
What is your first year as a Google Cloud Consultant?
The event is intended for cloud professionals or organizations who want to travel to a cloud professional and are considering cloud platform choices.
Registration information or your own name will not be visible to other participants during the event.
Included in the event: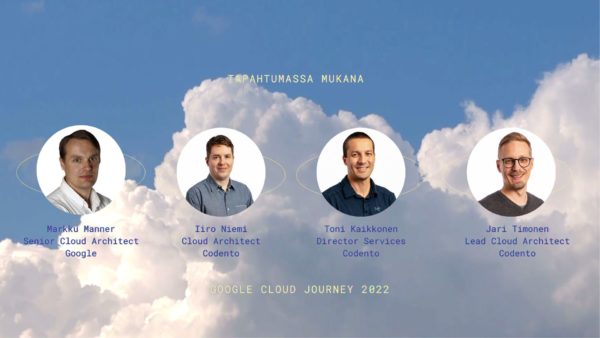 Markku Manner, Cloud Architect – Google
Markku is a cloud architect in the Google Customer Engineering team. In this role, she focuses on supporting customers on their journey to Google Cloud. Prior to working at Google, Markku has consulted with clients on cloud issues, delivered projects and ongoing application and infrastructure services, led development teams, and worked as a chief information officer and chief technology officer. Markku graduated from the Department of Computer Science, University of Helsinki. He also holds an MBA from Aalto Executive Education. Markku received the First Patent Award (US9155320B2), a co-Inventor of Prefix-based leaf node storage for database system.
Toni Kaikkonen, Director Services – Codento
Toni is an experienced software business professional and one of the pioneers of agile methods in Finland. He began his career at QPR Software in 1997 as a programmer and later worked as a project manager, product manager and product development director. In 2008, he started with Endero (Knowit) in software services and has since worked e.g. in the startup world and as an independent consultant through his own company before starting at Codento.
Jari Timonen, Lead Cloud Architect – Codento
Jari Timonen is an experienced software professional and certified Google Cloud architect and software developer with more than 20 years of experience in the IT industry. Jari's passion is to build bridges between the business and technical teams, where he has worked in his previous position at Cargotec, for example. At Codento, he is at his element in piloting customers towards future-compatible cloud and hybrid cloud environments.
Iiro Niemi, Cloud Architect / Software Developer – Codento
Iiro is a Google Cloud Certified Architect. Iiro has been working for customers as a software developer since 2019. Prior to that, he worked as a business consultant. In software projects, he is inspired by understanding complex systems and positively influencing the world through technology. In particular, Iiro's passion is to learn and apply cloud infrastructures and services.
Request video recording below.