The #BIZML online event series, which has gained great popularity, will now continue with new perspectives.
Join AI, technology and business experts to hear:
Challenges and risks with ChatGPT based approach?
Why one language model is not enough and how to integrate them?
Why proactive security and data governance are must?
Can large language models scale economically for businesses?
Why Google Cloud is different? What is Google's portfolio for Generative AI and practical use cases?
What is the future for Generative AI?
Keynotes and panelists: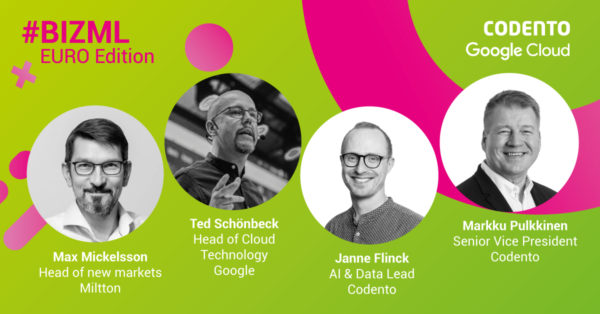 Ted Schönbeck
Head of Cloud Technology – Google
Ted Schönbeck is Head of Cloud Technology for Google Cloud in Sweden – he has +20 years experience of working in IT at among others IBM, Dell, VMware and Red Hat. He is a passionate open source, cloud, digital transformation and AI-evangelist and a frequent speaker at industry events.
Max Mickelsson
Director – Miltton
Max Mickelsson is the Head of new markets at Miltton. Before Miltton Max did a career in technology policy, business and politics. He worked at Microsoft for 14 years on public affairs in Finland and Ireland. Max also worked at the Microsoft with EU affairs regarding innovation policy and consumer rights. Max was also working on the Microsoft and Nokia Devices and Services merger and later divestment. Before Microsoft Max worked with politics and public administration. He was a political adviser to the Minister of Finance, Minister of Labour, Minister of the Interior, a Speaker and a Deputy Speaker of the Parliament and well as Secretary general for one parliamentary group. Max holds a masters degree in political science. He currently also serves as a member of the board of a non listed company and three foundations.
Janne Flinck
AI & Data Lead – Codento
Janne joined Codento from Accenture 2022 with extensive experience in Google Cloud Platform, Data Science, and Data Engineering. His interests are in creating and architecting data-intensive applications and tooling. Janne has three professional certifications in Google Cloud and a Master's Degree in Economics.
Markku Pulkkinen
Senior Vice President – Codento
Markku joined Codento in 2021. His responsibilities cover multifaceted business development with a special focus on Google Cloud partnership with a close relationship with Google. Prior to Codento, Markku worked for 15 years at Microsoft both in Finland and Western Europe Area HQ and at Oracle for 15 years in Finland and in the US. At Microsoft, he managed the largest business segment and partner ecosystem in Finland, and in WE he was leading a market transformation and a business model change to public cloud for the key Nordic data center service providers.
Request access for video recording: