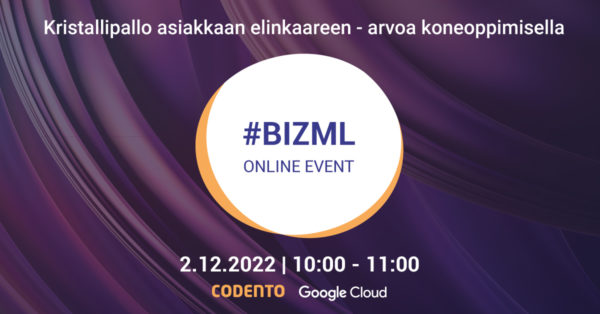 Join the top experts to hear how using machine learning you can see into the future of your customers' life cycles and make insightful decisions from a business perspective.
The #BIZML online event series, which has gained great popularity, will now continue with new perspectives.
Join AI, technology and business experts to hear:
How should business be managed from the point of view of the customer's future value – not how the value has developed in the past?

What factors are needed from the business side to determine the customer's lifetime value?

How is the customer's lifetime value managed as a continuous process with the help of machine learning?

How can Google's artificial intelligence solutions be used quickly to build a competitive advantage?
Codenton's Markku and Janne, who are part of the panel, tell you why you should join the event.
Keynotes and panelists: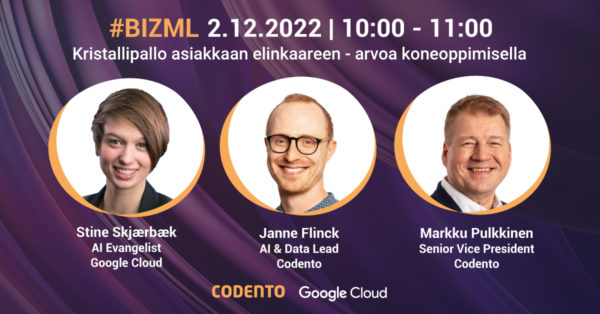 Stine Skjærbæk
AI Evangelist, – Google Cloud, Nordics
Stine is a customer engineer and data scientist by trade working for Google Cloud in the Nordics. With 7+ years at Google, Stine is able to draw from both her experience working with advertising and cloud technologies, when she discusses customer lifetime value predictions. Stine is educated at Copenhagen Business school and her specialty is how one can use modern data and machine learning technologies to achieve specific business objectives.
Janne Flinck 
AI & Data Lead – Codento
Janne joined Codento from Accenture 2022 with extensive experience in Google Cloud Platform, Data Science, and Data Engineering. His interests are in creating and architecting data-intensive applications and tooling. The main technologies used include BigQuery, GKE, Cloud Run, Airflow, Docker, R, Python, and Ansible. Some minor scripting with Bash for automation purposes. Janne have two professional certifications and one associate certification in Google Cloud and a Master's Degree in Economics.
Markku Pulkkinen
Senior Vice President – Codento
Markku joined Codento in 2021. His responsibilities cover multifaceted business development with a special focus on Google Cloud partnership with a close relationship with Google. Prior to Codento, Markku worked for 15 years at Microsoft both in Finland and Western Europe Area HQ and at Oracle for 15 years in Finland and in the US. At Microsoft, he managed the largest business segment and partner ecosystem in Finland, and in WE he was leading a market transformation and a business model change to public cloud for the key Nordic data center service providers.
Request access to the video recording: