Welcome to free AI.Cast – Smart Operations Episode 2 – Minimize Risks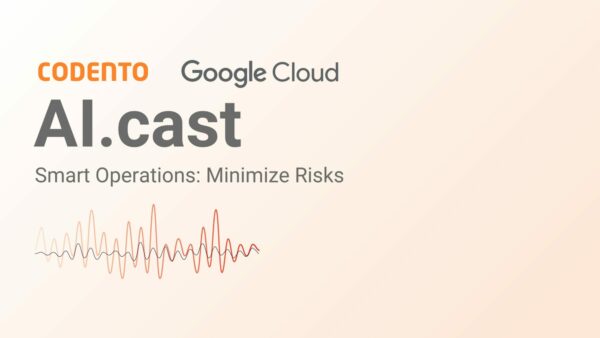 Leaders of operations, production, or logistics – did you know that:
Almost 90 percent of industrial companies are already planning to implement Artificial Intelligence in their production networks

20 percent of all industrial companies' annual revenue is spent on preventing poor quality, appraising quality, or mitigating internal and external failures

Through tighter integration of  suppliers and through supply chain transparency, forecasting could become more than 30 percent more accurate?
Our three episodes of Codento AI.cast with the theme Smart Operations will cover means to achieve better visibility, efficiency and automation without heavy costs. We at Codento, our partner Google and our customers like Fastems and Okmetic will talk about what you can achieve by using the newest technology that has been tested in the toughest of circumstances.
We will tell you how Smart Operations is done – and how your peers across Europe are already doing it!
In the second episode you will hear how to minimize risks  with AI.
The following topics are discussed:
Google's Computer Vision and GenAI revolutionizes manufacturing operations – get started in days or even hours
Predictive maintenance and  visual quality control
Harnessing Large Language Models and Generative AI to provide better customer support
Role of Artificial Intelligence and Machine Learning in managing industrial quality

Cast in this episode:
Riikka Käsnänen, Technical Product Manager – Fastems
Tero Vainio, Partner Development Lead – Google Cloud
Vesa-Pekka Lempinen, Chief Quality Officer – Okmetic
Janne Flinck, Data & AI Lead – Codento​
Anthony Gyursanszky, CEO – Codento
—
Register to the free AI.cast to:
Obtain automatically access to all earlier episodes
Access to this episode once it is published
Automatically receive access to all upcoming episodes